New Staff members and fellows: October - December 2017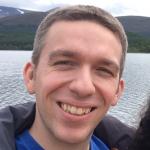 Martin Barisits
I joined the EP-ADP group in December as a computer scientist where I lead the software development of the ATLAS Distributed data management system Rucio. I have been a member of the ATLAS collaboration since 2010, both as a Fellow and doctoral student, where I also worked in the area of data management. With the upcoming Run-3 and Run-4 many challenges lie ahead for our data handling systems and I will focus my efforts to keep our software running stable and efficient, while integrating new functionalities and technologies for our users. I am also involved with advertising and extending the Rucio system for other scientific experiments and communities.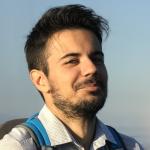 Javier Cervantes Villanueva
I am a computer scientist working with the EP-SFT group since September 2016. During the last year I've been working as a Technical Student for the LCG team providing the base software to the experiments. Now as a Fellow, I am keen to bring that experience to the FCC experiment where I will maintain the software infrastructure with special focus on the automation and lightness of the involved processes. Additionally, I will explore ways to foster better integration between the full potential that machine learning techniques provide and the HEP community needs.
Luis Miguel Jara Casas
I'm an electronic engineer and physicist working for the RD53 collaboration, in charge of producing the next generation of pixel readout chips needed by ATLAS and CMS at the HL-LHC. I joined CERN in July 2015 inside the FTEC program; afterwards, I started my fellowship inside the same collaboration. I worked on the e-links needed in CMS for its pixel readout chip, and in the testing of a chip (DRAD chip) specifically designed to study the impact of irradiation on digital logic gates in a 65nm CMOS technology. Now I'm involved in the testing of the RD53A, prototype pixel readout chip for ATLAS and CMS.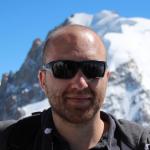 Dominik Muller
I recently joined CERN as an Applied Fellow working on the simulation framework of LHCb. I completed my PhD at the University of Manchester, studying the production and mixing of charm mesons in Run 2 of the LHC. As a PhD student, I have also contributed a new method to the fast Monte Carlo simulation effort within LHCb. As a member of EP, I will build upon this and work on the entire simulation framework of the experiment while emphasizing computational efficiency to tackle MC requirements for LHC Run 3 and beyond.
Veronique Nazical
Since September 2017, I started my job as DDPO in EP-AGS group. Currently, I am working with DPO in budget and resources monitoring. Previously, I worked within the FAP department in external grant section where they are worked on the financial support of European Commission funded projects. Prior to the employment at CERN, I was working as a financial controller of securities and payroll activity in a banking sector.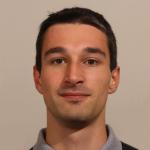 Lorenzo Quercia
I joined the ATLAS experiment as a fellow in October 2017 and now I'm working as a mechanical engineer in the Atlas project office. The muon spectrometer of the ATLAS detector will be significantly upgraded during the Phase-II upgrade in LS3; my main activity will be perform feasibility studies to define constrains and installation scenarios. Additional RPC chambers will be installed in the inner barrel layer: I will also design frames and structures for the new chambers and optimize their layout in collaboration with the Muon RPC team.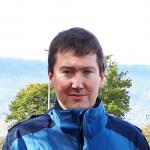 André Rummler
I am an experimental physicist who has completed his PhD at the TU Dortmund. My work was mostly focused on radiation hardness of planar sensors for the ATLAS pixel detector upgrades. Afterwards I have continued to work on modules for the same upgrade project at LAPP for three years. During that time I became ATLAS test beam coordinator which is a function I continue to exercise. With the beginning of my fellowship I have joined the ATLAS operations team at CERN and I am going to take over as ATLAS operations manager. In this function I will have to ensure smooth running of the infrastructure during data taking and coordinate maintenance and upgrade efforts of all sub-detectors during technical stops.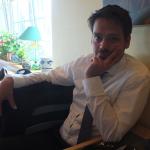 Sascha Stahl
I have joined the LHCb team of CERN as a research fellow in 2010 and will now continue as a staff member. I have been working for the LHCb experiment since 2009 when I was an undergraduate student at the Heidelberg University. In recent years I contributed to improving the event reconstruction in the High Level trigger of the LHCb detector and measured CP violation in decays of charm and beauty quarks. The upgrade of the LHCb detector in the next long shutdown will pose a challenge to the trigger, and I am excited to work on that at CERN.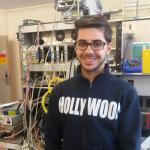 Carmine Stile
I started my TTE fellow program, in the EP-ESE-BE group, as a technician in October. I will be involved in the development of optical data transmission systems for future experiments at CERN: Assembly of experimental setups for testing of optical data transmission systems -Design and fabrication of experimental setups for evaluation of radiation hardness of optical data transmission systems And I help the colleagues in my building to create and modify aluminium, plastic and plexyglass plate using CNC machine for their experiments or other project, because ESE group work for the all experiments at CERN.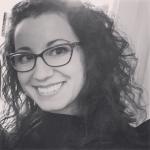 Petya Vasileva
I started my Fellowship in October as part of the Database group in the ATLAS experiment. I have been working at that place for the past 3 years where we are taking care of over 200 applications hosted in Oracle databases. My work includes support for the application developers, database design and implementation of different projects related to the Big Data collected by the ATLAS detector. I have the rare chance to do R&D, to try new technologies and learn something new every day.