A word from the Head of the EP department - December 2017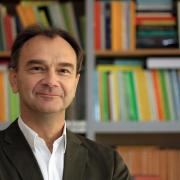 Dear Colleagues, dear Members of the EP Department and CERN Users,
Welcome to this year's last EP newsletter. 2017 was a fantastic year for CERN. The LHC machine broke every record, from an achieved peak luminosity of twice the design value to an amazing delivery of 50 fb-1 of integrated luminosity.
The LHC experiments did equally well and took high quality data with high efficiency. In parallel they proceeded with analyses and continued to publish a large number of high quality scientific papers. If this wouldn't have been enough, the LHC collaborations also made great progress in the preparation of the Long Shutdown 2, which will start in only one year from now, and ATLAS and CMS also submitted the required detector TDRs for their upgrades in Long Shutdown 3.
The present newspaper features some articles on these upgrades, e.g. on the Scintillating Fibre Tracker of LHCb, which is being completed for installation in 2019, and the plans for the CMS Phase-2 upgrade during LS3. Two articles from the AD should also attract your attention. There is first the amazing new measurement of the magnetic moment of the antiproton to an uncertainty of only parts per billion by the BASE experiments and second the progress of commissioning the positron source of the GBAR experiment using an electron accelerator. Many more interesting articles wait for you to be read during the Xmas break.
I would like to wish all of you Happy Holidays and a very Successful Year 2018!
Please relax during the break and enjoy your time with your family. Those who have to spend time during the break for inevitable work in the experiments, I would like to thank and wish you the necessary success.
Manfred Krammer
EP Department Head