A word from the EP Department Head - September 2021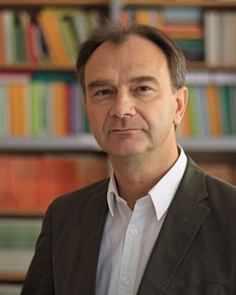 Dear Colleagues in EP,
Welcome back at CERN! In particular to all of you who couldn't come to CERN in the past one and a half years due to the COVID crisis.
As this editorial is being written 6000 people are on the CERN sites every day of which 2000 colleagues are from the EP department. Obviously, the increase of colleagues at CERN over the last months is largely due to our user community being able to come back to CERN again.
Life is not only returning to the restaurants and cafeterias, also all accelerators with the exception of the LHC are back in operation and with it all non-LHC experiments have resumed operation. Let us take this occasion to acknowledge the rich physics programme of these experiments and the diversity of the CERN programme.
This edition of the newsletter for example features an excellent article explaining the ISOLDE facility. When browsing through the list of New Staff Members and Fellows you will also find a short introduction by the new spokesperson of ISOLDE Sean Freeman. He has replaced Gerda Neyens as of September 1st.
With the restart of the accelerators the new decelerator of the AD complex ELENA has also resumed operation providing the AD experiments not only with antiprotons of lower energy but also allowing all experiments to operate in parallel – a true game changer for the AD experiments. The sophistication of the AD experiments is explained in the article on BASE describing the first sympathetic laser cooling of a single proton.
Moving on to the LHC experiments don't miss the article and the pictures of the now completed New Small Wheels of the ATLAS experiment. You will see that small is a relative expression. On the other side of the LHC ring CMS has reinstalled its Pixel detector after refurbishment and further articles feature the installation of the first half of the Scintillating Fibre detector of LHCb and the Fast Interaction Trigger detector of ALICE.
If you are interested in the possible future of beam acceleration the article on AWAKE will give you a glimpse into the programme of the second run of this experiment.
On physics you will finds several articles among them the discovery of a new Tetraquark by LHCb. What makes this Tetraquark so special and interesting for QCD studies is the fact that the two charm quarks it contains are two heavy quarks of the same flavour.
While we are appreciating that life at CERN is moving more and more closer to normality please continue to obey all sanitary measures! Enjoy reading this newsletter.
Your EP Department Head
Manfred Krammer